Wicked places in Middle East
Former US embassy
Tehran
An embassy that doesn't even exist any more, how exciting can that be? Well, first there is the history. The embassy got overrunned in 1979 by revolutionary students, when the Shah fled the country and the Ayatollah gained power. 52 US employees was hold hostage and the American attempt to rescue them went terrible wrong. After 444 days the hostages were released. Today are the walls that surrounding the old embassy decorated in anti-American propaganda that has almost become iconic. The grounds are still guarded by the military and some of the soldiers are not that happy about cameras, so this sneaky part can actually turn out to be quite exciting.
Mausoleum of Ayatollah Khomeini
Tehran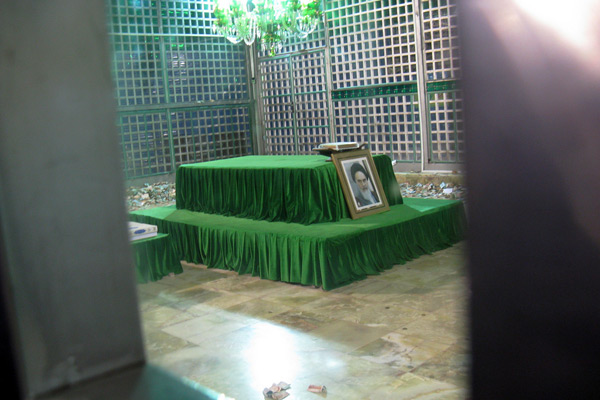 Photo by Christine K. under CC
Ayatollah Khomeini's funeral hit the record in 1989 as the largest funeral ever held, with a crowd of 10 millions mourners. Today his tomb is located in the outskirts of Tehran in what seems to be a mausoleum under never ending construction. The huge complex resembles a mosque with tall minarets and gold dome. Everyone can enter and see the caged off shrine and hang around the vast area surrounding it. The mausoleum attracts a diverse range of locals from picnicking families over young couples seeking some privacy to mourners paying respect to His Holiness. It's truly a remarkable weird place.
Photo by
Christine K.
under
CC
Dead Sea
Bordering Israel
The Dead Sea is, besides being the lowest point on earth, a very salty place. It is neither pleasant nor relaxing to swim in due to the high level of salt. It is just very weird and sticky. The main place for a dip is the public Amman Beach which has freshwater showers (you will crave one after a swim), but also a hefty entrance fee. If you want it free, you can drive further south. Expect litter and dodgy looks from local men, but if you are willing to dodge some fence you can cross the road and get access to a hot spring with fresh water.
Tall flagpole (127 m)
Raghadan Palace, Amman
Ooh la la. A very high flagpole which can be seen from almost anywhere in Amman. It was once the tallest flagpole in the world, but is now beaten by both the National Flagpole (162 m) in Azerbaijan and Dushanbe Flagpole (165 m) in Tajikistan. If the pole doesn't really has to be a pole, the title previously belong to North Korea and their Eiffel tower looking flagpole at 160 m, standing in Peace village (Propaganda village) on the border to South Korea. Apparently that pole can't hold the flag if it becomes wet. We don't know if the Jordanian can.
University of Sultan Qaboos
Outside Muscat
For a bit of a reality check, take a self-guided tour at the Sultan Qaboos university. It is a closed off property, so if stopped by security guards just say that you are considering studying/teaching here. Here you will realise that students in Oman are not much different from elsewhere in the world, some are fast-walking nerds while others hang out lazily in the sun... and then again. Though it is an unisex university (half of the students are females) there are special walkways for female students only, just so things don't get too crazy.
Artificial island
Pearl Qatar, Doha
Pearl Qatar is an artificial island build as residential estate for those with a bit extra on the bank account. We are talking manicured green lawns, water fountains and a swanky marina right at the lucky owner's doorstep. The area is Disneyfied to the extend that muzak is playing along the groomed promenade. The fancy shopping arcade contains of course all the luxury brands you can imagine, including a showroom for Rolls-Royce and Maserati. However, ordinary things, like a bottle of water, seem impossible to buy anywhere - but we guess that a housekeeper would normally be in charge of that.
Sexy lingerie
Any souq or shopping street
Syria is a Muslim country and every female is covered from head to toe, literally, when she leaves her home. The surprise is therefore big to find shops, yes whole streets in the souqs (markets), with sexy lingerie. As with any product in the bazaar, the goods are of course fully displayed outside and in the window. We are talking very revealing outfits created by a naughty mind and made out of dental floss strings, sequins and feathers. It's surreal to see such a sexy display being browsed by covered up ladies... but maybe it's their husband who buys.
Indoor skiing
Ski Dubai, Mall of the Emirates, Dubai
When you are a rich oil sheik, you can have everything... even snow in the desert. Fitted inside the second biggest mall in Dubai, Mall of the Emirates, is an artificial plastic-fantastic winter wonderland with real snow, ski slopes (including a 400-metre-long run and a black run), snowboard funpark, toboggan runs - yes, even live penguins. The snow park at the base is a bit of a mayhem of kids in all sizes and concerned parents. All equipment, clothes and boots are of course included, and there are even special jackets for those wearing a traditional kandura or abaya. For observers the whole hullabaloo can seems tacky and stupid, but Ski Dubai is very popular and everyone is having a blast.