Philippines
Chinese cemetery
Manila
Photo by nozomiiqel under CC
You might be wondering how a suburban street like this can qualify as an attraction, and what it has to do with a cemetery. Well, it is a cemetery and all those fine little houses are not for the living, quite the opposite. It's tombs for some of the deceased wealthy Philippino-Chinese, and they come in all sizes from mailbox size to whole houses with toilets and air-con. It's best visited on Sundays when families come by to honour their ancestors and it gets really lively on All Saints day on the 1st of November.
Photo by
nozomiiqel
under
CC
El Nido
Palawan
Palawan's gem remains relatively unknown to foreign tourists, but that's why its in a pristine state. El Nido is the stepping-stone to exploring more than 50 white sand beaches, limestone cliffs and the crystal clear waters of Bacuit Bay. With dugongs, manta rays, and even whale sharks calling the 30 dive sites home, forests that boast numerous bird species and hidden islets to be discovered, it's more than a beach destination. You'll be able to hire boats at El Nido beach for some island hopping. Known as the last frontier of the Philippines, the secluded seascape makes you feel like you've stumbled upon a secret paradise absent of mass tourism. Enjoy BBQ seafood and stroll down the curving sandbar of Snake Island to relax, but if you're after adventure, visit Helicopter Island. Its underwater cave promises an exciting dive and boasts exotic fish while the lagoons will satisfy those seeking tranquil turquoise waters to swim in. Regardless of what you choose, the hospitality of El Nido's locals and mesmerizing islands are worth a visit!

Hanging coffins
Sagada, Luzon
Photo by Jeff Werner under CC
Up in the mountains in northern Luzon lies the village of Sagada, surrounded by pristine hills and pine forests. It's a refreshingly cool little place famous for its caves and hanging coffins. The deceased were put in a hollowed trunk and then placed high on a projection of the cliff or piled on top of other coffins. This ancient funeral custom is no longer practised, but it's still possible to visit the burial site where coffins of all ages and states of decay hang. You can even peek at the bones through the cracks, but no touching (some people do).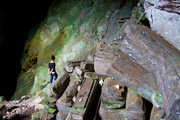 Photo by
Jeff Werner
under
CC
Headhunters of Kalinga
North Luzon
Beautiful, mountainous Kalinga Province is famous for its ancient warrior culture which has survived into the present. Some villages have gongs made of human jaw bones and people covered in full body tattoos that were awarded for success in headhunting raids. Although these practices have now ceased, tribal warfare is still a large part of life here, and in the remote Tanudan area people openly walk around with Uzis, M16s, pump-action shotguns and the like. Kalinga is certainly not for the faint-hearted and that goes for the drive here too. The first seven hours from Manila is a deceptively smooth ride on perfect tarmac, then the road becomes a dirt track for the next six hours and shoots off into the mountains, reaching heights of over 2250 m before descending into Bontoc. After Bontoc, only the occasional jeepney goes the last eight hours north to Kalinga but the scenery is utterly spectacular. The orangey-brown track streaks up and down mountainsides into and out of the clouds as if there were no tomorrow, millennia-old rice terraces cascading down the lush green slopes all around.
Mindoro Island
Mindoro Island
Mindoro as a tropical island travel destination really has it all. Yet, bar the trashy resort in the north, it is almost totally devoid of tourists. At villages such as Bulalacao, it's easy to find a huge, golden-sand, palm-lined beach lapped by see-through turquoise waters and have it all to yourself. What's more, on low-key beautiful Pandan Island, snorkelers regularly swim with giant turtles. A bit further out, Apo Reef has world-class diving. But that's not all. Away from Mindoro's only road, which runs around the coast, its interior is inhabited by 100,000 Mangyan people. Those nearer the coast accept visitors if brought by someone they know. Others living further inland wear only a loincloth or go completely naked, live in extreme isolation and will run away from outsiders on sight. Sablayan is a good base to visit Pandan, Apo and Mangyan villages. Nearby Bulalacao are some markets visited by the Mangyan and a few Mangyan villages. Be warned: interior Mindoro, away from the road, is highly malarial and infested with anti-government rebels.
Pintaflores Street Dancing Festival
San Carlos, Negros island
Once a year on the 5th November, the town of San Carlos on the island of Negros explodes into one of the most frenetic street festivals in a country renowned for its frenetic street festivals. Hundreds of dancers clad in a dazzling array of extraordinary costumes make their way through the town, performing spectacularly well-choreographed dances while on the move. Flowers are the theme of the day, and you'll see them painted all over the faces, bodies, arms and legs of the dancers. Some groups make human flower formations, their dances physically resembling the opening of a flower, and there may even be few giant bees hanging around to pollinate them. You won't find any slow, pretty waltzing here, though - these dances are fun, fast, full of life and in some cases a little crazy. The atmosphere in the town is absolutely wild, with karaoke bars full to the brim and overflowing onto the streets that the dancers pass through.
Psychic surgery
All over the Philipines
Filipinos are naturally very superstitious people. People from all classes and walks of life will happily tell you about the various different goblins and flying demons they have seen and believe in. This is perhaps why the practice of psychic surgery has become so popular. During an "operation", the psychic surgeon's finger penetrates the patient's skin and extracts bad energy that is making them ill, materialised into some sort of bloody lump. It leaves a bit of blood but no scars. No matter how much you bend over and get up close while watching an operation, it really does appear that the surgeon's finger is inside the patient. However, a couple of documentaries have proved that the psychic surgeons they followed were just scammers. There are plenty more of these people out there though and one thing is for sure: the man who performed the "operation" pictured was working for free in a church in a poor area of Manila, "operating" on patients because of his and their belief that it would help them.
Sibuyan Island
Romblon Province
33% of Sibuyan's surface is covered in virgin rainforest which spills in luscious green waves over the slopes of mountains rising up to and above 2,000 m. There are hundreds of endemic species including birds, reptiles, mammals and more constantly being discovered. People called the Sibuyan Mangyan Tagabukid also live in the interior. As in many parts of the rural Philippines, they have preserved a strong belief in the powers of the babaylan, or medicine man, such as the one pictured to the right performing a ritual. Tourist infrastructure on the island is limited and finding a guide to interior villages or to the Guiting-Guiting National Park for wildlife watching is difficult. There is at least one guest house in each of the main coastal towns such as Magdiwang, so start by asking there. Otherwise, just come to enjoy Sibuyan's relaxed provincial atmosphere, friendly locals and beaches that are wonderful, weather permitting. Storms here are regular and heavy, often causing passenger ships to be cancelled.
Snorkelling with whale sharks
Donsol, Sorsogon
The waters off Donsol are where you have one of the best chances to swim alongside the largest fish in the sea. Known locally as Butanding, whale sharks converge here in phenomenally large numbers from October till June. With a little bit of luck, you might even see up to 15 whale sharks in a day! These gentle giants can measure up to 12 m, but are surprisingly friendly and calm, often interacting with the snorkelers they encounter. Touching the whale sharks is a strict "no" though, as it removes the protective layer of mucus preventing infection. You're not allowed to dive to limit the human interference but beware of lethal snorkelers indiscriminately kicking as though their lives depend on seeing the large pelagic. If jumping from a moving boat and swimming after a whale shark isn't your thing, Donsol offers a variety of other activities like firefly watching, kayaking and scuba diving with manta rays.