Turkey
page 1 of 2
Bodrum
Aegean coast
A few sparkling pearls dot the beach scene of the Turkish coast. Perhaps none shine more brightly than the port town of Bodrum. With more cafes, restaurants, bars and nightclubs per capita than pretty much anywhere else in the country, you can eat, drink and dance your worries away. For those culture vultures, Bodrum Castle (Castle of st. Peter) or the ruins at Halicarnassus will offer a respite from the rather touristic streets of downtown Bodrum. There are even boat trips which easily whisk travellers away to hidden coves and secluded beaches. Bodrum is most certainly is a hedonistic paradise.
Chimney rocks and underground cities
Cappadocia
A landscape so imaginary and weird that it's hard to believe it's made by nature. The soft underlaying volcanic rock has been shaped by time, wind and water and left in the most fantastic formations with harder boulders balancing on top of tall rock chimneys. To add further magic to the place the mountain sides and underground have been dug out for housing, monasteries and even whole underground cities for thousands of years. It was in these multi levelled underground complexes where the Christians hide from the Romans to escape their prosecution. Some of the cities are more than 80 meters deep with eight floors and could accommodate more than 20.000 people. It's a truly unique place and you can even sleep in some of the many cave hotels in the area.
Diyarbakir
Anatolia
Diyarbakir is famous for PKK (Kurdistan Workers Party), watermelons and the old walled city, where the last one is the reason to come here. The city wall is at places restored to polished monument while at others it is a crumbled adobe wall. You can climb it and walk along sections, which offer great views over the charming old town and its narrow twisting lanes with buzzing bazaar atmosphere. Hidden in corners of the cramped quarters you can find historical buildings like the restored Armenian church and the four-pillar minaret. You could easily spend several days exploring Diyarbakir old town - or just sitting in shady corner sipping Kurdish coffee.
Efes
Izmir Province
Throughout the Mediterranean region, the ancient Greek and Roman empires have certainly left their mark. Ruins are scattered throughout the area. But one place stands out above all others. Efes (or Ephesus) was, at a time, the largest city in the entire region. It was mentioned many times in the bible, and some say the Gospel of John was written here. But for the average traveller, simply strolling along the ancient paths is enough of a "religious" experience. Even with such architectural highlights as the Library of Celsus, estimates are that only 15% of the site has been excavated. One tip, try to get there as early as possible. When the cruise ships dock at nearby Kuşadası, Efes can become beyond overrun with tour groups.
Erzurum
Anatolia
Erzurum is the only real city in Eastern Anatolia, and you will eventually end up here if passing through the region. It is fairly nice and has a few interesting sights, like the citadel and the easy recognizable twin minarets madrasa, Çifte Minareli Medrese. No matter what time of the year you come here, you get the feeling that Erzurum is a popular winter sports place. The Palandöken Mountain ski resort is a short bus ride outside town and sports shops seem to stock skiing gear year-around. It could be fun to come to here during winter, but pack warm clothes (average temperature in December is -8.6ºC).
Istanbul
Istanbul
Istanbul is soaked in culture, history and glory. Previously known as Byzantium and later on Constantinople it has played an important role through out times. Posited right at the Bosphorus Strait, the entrance to the Black Sea, and sprawling over both the Asian and European continents it is a city that can take some time to get your bearings. The skyline of Sultanahmet (old town) is dominated by the giant domes and minarets of the mosques that have made Istanbul so iconic, while the vibrate neighborhood of Beyoğlu is heart of modern Istanbul packed with fine cafes, small restaurants and boutiques. Keep in mind that Istanbul is no hidden secret (and probably never has been). Tourists from around the world pour in by the busload, pressing prices up and ordinary Turks out. So to get the most out of any Istanbul visit, break out of the tourist bubble at Sultanahmet and go explore the less known areas.
Mardin
Anatolia
Crowned with a castle and beautiful location high on a hillside it is understandable that the creme coloured town of Mardin is popular among local tourists. Narrow restored lanes run along fine stone houses, up flights of stairs and through small tunnels before they end up back in reality and the "modern" part town. Though it is fun to wander through the maze, Mardin might be best appreciated from the distance, like from the main road below, so you can get a sense of the multiple levels and a great view of the picturesque minarets, which give Mardin its iconic image as an oriental town.
Mt. Ararat (5,137 m)
Doğubayazıt
Irregardless of religious allegiances, nearly everyone has heard of the story of Noah. Told by God to expect some rain, he built a massive ark to save two of every animal. Eventually, as the waters subsided, the ark came to rest on dry land. Today, many theologians believe that the ark came to rest on the slopes of Mount Ararat in Eastern Turkey. Quite a sight for the religiously inclined. However, the mountains has plenty to offers others. Climbing Mt. Ararat is quite popular in the summer months, although it has to be done as a tour due to he number of permits required. And for those not wanting to exert themselves, the snowcapped mountains seemingly erupting for the valley floor is wonderfully photogenic. Ararat has something for everyone.
Nemrut
Nemrut mountain (2134m)
Photo by Simon Hooks under CC
Nemrut is a mountain in eastern Turkey. So far nothing special, but in the first century B.C. king Antiochus build something mind blowing on the dusty summit. Huge statues (8-9m) of himself and a number of Greek, Armenian and Persian gods, and to top it of, an artificial peak of stone rubbles which is believed to be his tomb (but nobody knows). Today the statues are broken into pieces that are scattered on the mountain top, but the giant heads are still gazing proudly over the plateau below.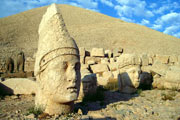 Photo by
Simon Hooks
under
CC
Princes' Islands
Sea of Marmara
About 20 km southeast of Istanbul lies nine islands (four main ones) known as Princes' Islands, or just Adalar (the islands). Though they only are a ferry ride away from bustling Istanbul, they are a very sedated places. The small-town vibe and the slow peace is the exact reason way people come here. Well-off city slickers have weekend houses here, while the rest settle for hotel room in the weekend or a day trip. There are no cars on the islands, so transport is either by foot, bicycle or pimped out horse carts. The Princes' Islands make a great escape from Istanbul, but don't expect white sandy beached - the few beaches are pebbled and mostly covered in deck chairs.